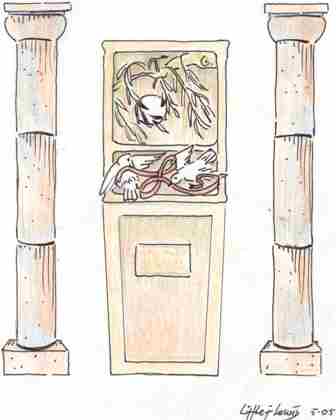 Artists "Little and Lewis" of Bainbridge Island submitted the above concept for the proposed AIDS Memorial which has been placed on the Snohomish County campus.
History: In May of 2000, an idea was born, that all those who have suffered from the HIV/AIDS epidemic should somehow be memorialized. A group at the local "Underground Bar", began a fund raising campaign for the project with shows and auctions, etc. It seemed at the time, that the cemetery would be a logical setting, since so many afflicted with AIDS had died, so three plots were purchased from Evergreen Cemetery in Everett. It was understood at the time that the three plots plus one donated by the cemetery would be located on a triangular space near the entrance to the park.
For whatever reason, after having raised nearly $10,000, the original project lost steam. Recently, the remaining members of the AIDS Memorial Committee decided to get the project back on track. Discovering that Evergreen Cemetery had changed management and that the new management did not seem clear on what or where the memorial should be, perhaps not even sure they wanted an AIDS Memorial on their grounds.
A new location for the AIDS Memorial was proposed - the old Snohomish County Campus. A proposal was sent to the County Executive and after some time, the AIDS Memorial Committee was invited to meet with Snohomish County Facilities Manager to discuss this possibility. That meeting resulted in a proposed site choice on the campus, the plaza west of the old Mission Building at Pacific and Wetmore Avenue. The facilities manager requested that the committee present a design of the memorial for approval along with a statement of financial viability to cover the cost of design, creation and installation. He also asked for a commitment on the part of the committee, to maintain the memorial and to regularly schedule events centering around the memorial.
On March 17, the AIDS Memorial Committee visited the studio/gardens of "Little and Lewis" on Bainbridge Island. George Little and David Lewis have become well known throughout the Northwest and beyond for their innovative and beautifully crafted outdoor garden art. They create columns, panels, plaques and walls with all sorts of interesting shapes in concrete, to which they apply textures and colors, often appearing to be on metal or ceramic. A bit overwhelmed by all the possibilities presented by Little and Lewis, the committee members now have some ideas concerning the kind of memorial that would best fit on the new county campus.
On World AIDS Day, December 1, 2005, the AIDS Memorial of Snohomish County was dedicated with a ceremony held at the site. Representatives from the county and state governments joined a crowd of local citizens at the Mission Building Plaza to confirm the pledge to remember those who have suffered from the HIV/AIDS epidemic.
about us :: calendar :: Everett Gayzette :: links :: politics :: The AIDS Memorial